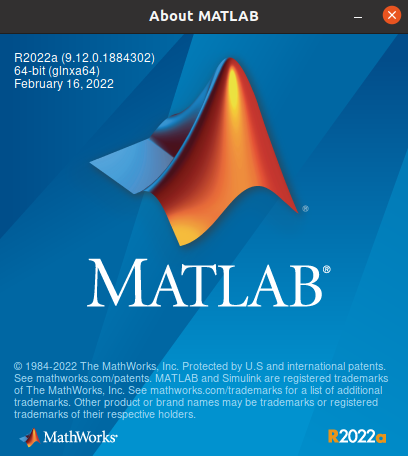 Description:
Company MathWorks most complete software for computational computer produces; the main program the company that actually Passport is software MATLAB (short for Mat rix Lab Oratory and means lab Matrix) is one of the most advanced software, algorithms and math and a programming language developed generation fourth is possible to visualize and plot functions and data is provided. Icon and bookmark MATLAB with the manufacturer's logo is the same as the wave equation, L-shaped membrane and special functions have been extracted. MATLAB competitors such as Mathematica, Maple and Mathcad noted.
Facilities and software features MathWorks MATLAB:
-perform a variety of complex mathematical calculations and heavy
-Development environment for managing code, files, and data
-explore ways to achieve this solution
-A variety of mathematical functions for linear algebra, statistics, Fourier analysis, optimization, filtering, numerical integration and ...
-drawing two-dimensional and three-dimensional graphics functions for visualizing data as
-Design and construction of user interfaces under the programming languages C ++, C or Java
-Ability to test and measure the exact functions and graphs
-the possibility of communication signal processing, image and video
-There are various Jbhabzarhay engineering companies for specific applications such as
telecommunications, control, fuzzy, estimates, statistics, data collection, simulation systems,
neural networks, probability and ...
SYSTEM REQUIREMENTS
Operating System​
Ubuntu 20.04 LTS
Ubuntu 18.04 LTS
Debian 10
Red Hat Enterprise Linux 8 (minimum 8.1)
Red Hat Enterprise Linux 7 (minimum 7.6)
SUSE Linux Enterprise Desktop 12 (minimum SP2)
SUSE Linux Enterprise Desktop 15
SUSE Linux Enterprise Server 12 (minimum SP2)
SUSE Linux Enterprise Server 15
Processor​
Minimum
: Any Intel or AMD x86-64 processor
Recommended
: Any Intel or AMD x86-64 processor with four logical cores and AVX2 instruction set support
Disk​
Minimum:
3.7 GB of HDD space for MATLAB only, 5-8 GB for a typical installation
Recommended:
An SSD is recommended
A full installation of all MathWorks products may take up to 30 GB of disk space
RAM​
Minimum
: 4 GB
Recommended
: 8 GB
For Polyspace, 4 GB per core is recommended
Graphics​
No specific graphics card is required.
Hardware accelerated graphics card supporting OpenGL 3.3 with 1GB GPU memory is recommended.
Use of vendor-supplied proprietary drivers is strongly recommended.
GPU acceleration using Parallel Computing Toolbox requires a GPU that has a compute capability 3.0 or higher. For more information, see
GPU Support by Release
.
INSTALL ISTRUCTIONS
0. Mount iso-file Matlab912R2022a_Lin64.iso
1. Run "install" from mounted iso-file and if you see login/password/signin form (installer has access to internet)
then in upper right corner in "Advanced Options" select setup mode "I have a File Installation Key"
If internet access is absent then required setup mode will be auto-selected and you do not need to select in manually
2. When you will be asked to "Enter File Installation Key" enter
50874-33247-14209-37962-45495-25133-28159-33348-18070-60881-29843-35694-31780-18077-36759-35464-51270-19436-54668-35284-27811-01134-26918-26782-54088
3. When you will be asked to "Select License File" select file "license.lic" from folder with Matlab912R2022a_Lin64.iso file
4. Then select folder where you want Matlab to be installed (<matlabfolder>)
To avoid problems you need <matlabfolder> which have all access rights for you
If it hard for you to select anything then use "/home/<YourUserName>/Matlab/R2022a" for example
5. When you will be asked to "Select products" select components you need
If you all components are selected Matlab will need about 30Gb of disk space and somewhat longer startup time
If you select only "MATLAB" then Matlab will need about 3Gb of disk space
You better install Matlab on SSD disk for better startup time, so most likely you do not want to waste SSD-disk space for nothing
6. After installation is done copy file "libmwlmgrimpl.so" from folder with Matlab912R2022a_Lin64.iso file
to ALREADY EXISTING FOLDER "<matlabfolder>\bin\glnxa64\matlab_startup_plugins\lmgrimpl"
WITH OVERWRITING OF EXISTING FILE (<matlabfolder> - is where you have selected to install Matlab on step 4)
If you was NOT asked about overwriting then you are doing something wrong (or Matlab was not installed successfully)!!!
7. Work with Matlab
P.S.
During update/change of already working Matlab there is no need to execute step 3
Step 6 might be necessary to repeat (if during update/change of Matlab file "libmwlmgrimpl.so" was overwritten)
If after update/change you get error during startup of Matlab then first try to redo the step 6
VIRUSTOTAL SCAN FOR FILES
VirusTotal
www.virustotal.com
VirusTotal
www.virustotal.com
VirusTotal
www.virustotal.com
ESET NOD32 SCAN FOR ISO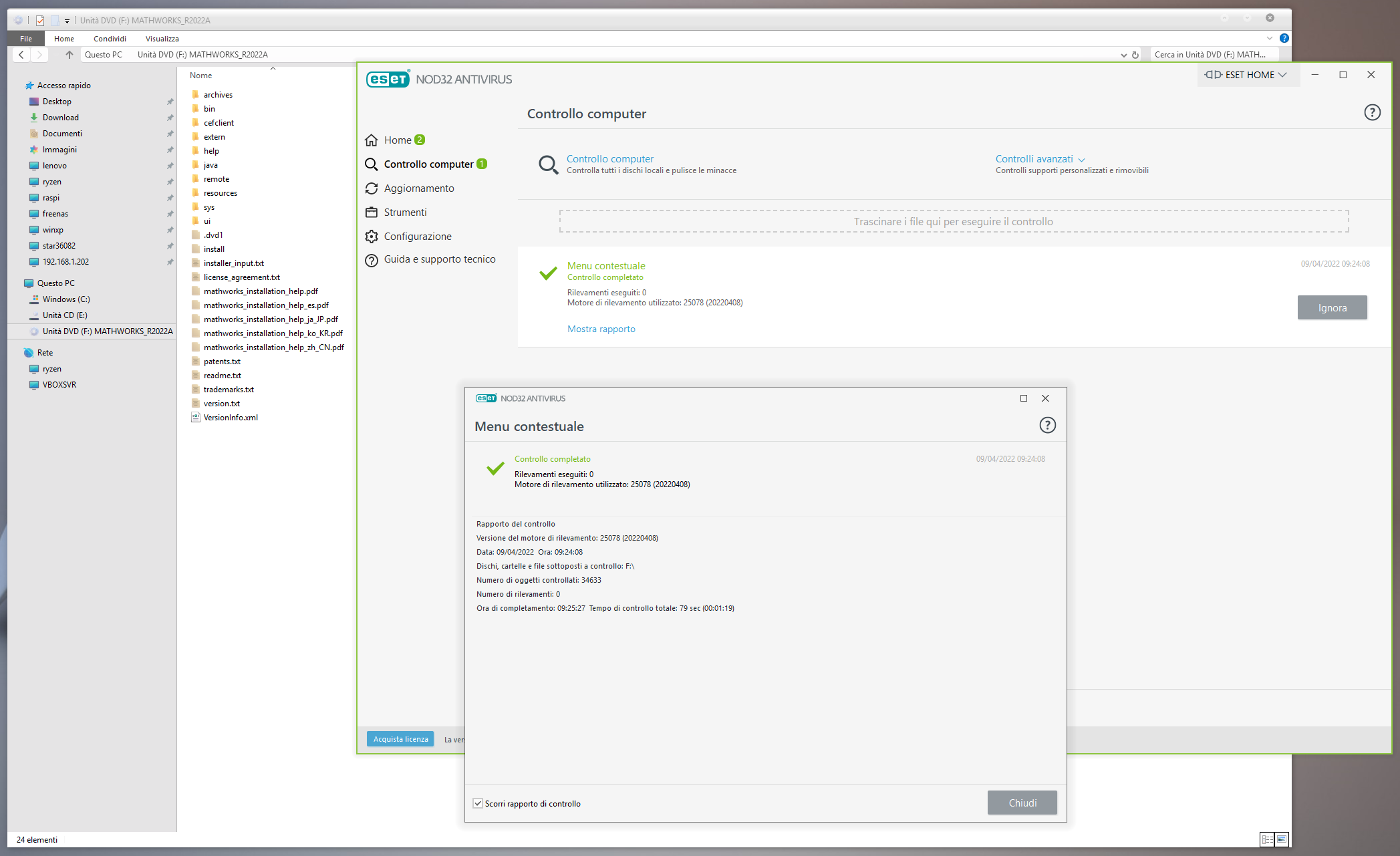 DOWNLOAD FROM GOOGLE DRIVE
Google Drive





SCREENSHOTS